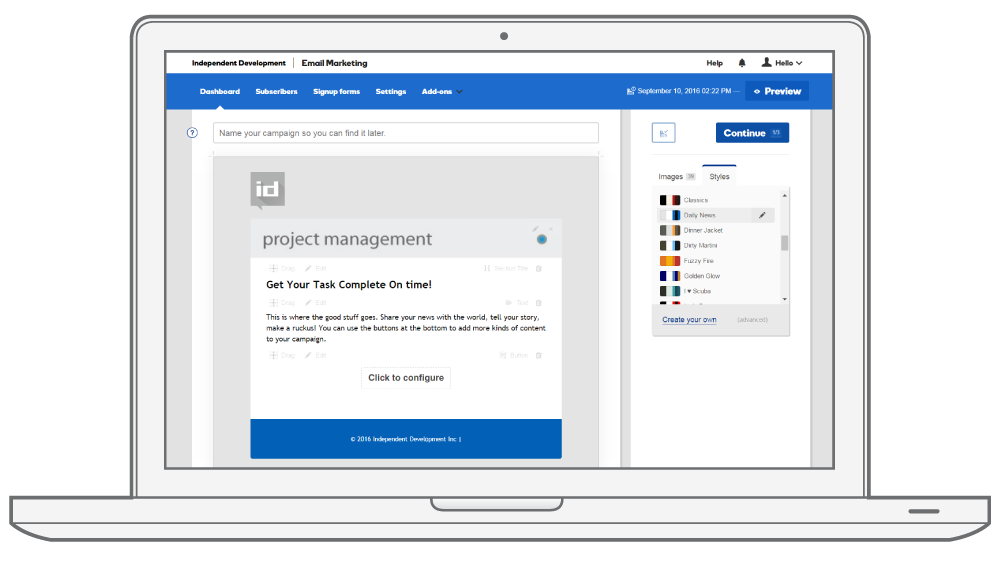 Email Marketing
Page Header:

Information designed for your business
HTML Email Marketing
The most cost-effective way to connect with customers and prospects!
Email outperforms other marketing strategies, earning C$56 for every C$1 spent on average.+ It's the most cost-effective way to gain new clients and keep existing ones coming back.
Refine your emails for better results
Easy-to-read dashboard shows you which emails are most successful based on the number opened, and whether or not the reader clicked on links or shared your email with friends. Over time, these statistics will tell you what does and doesn't work with your audience.
Your Digital Marketing Assistant
Email Marketing can even do routine tasks for you, freeing you to focus on running your business.
Automatically turns your blog posts into email newsletters, emailing them to any list you specify.
Sends welcome emails to new subscribers, wishes clients a happy birthday and delivers coupons to your best customers.
Handles routine emails such as password resets, account activation and purchase orders.
All Plans Include:
A simple drag-and-drop email composer.
Automatic removal of bad addresses, duplicates and unsubscribes.
Smart, friendly consultants ready to help 24/7.
Reports that show which emails get opened, clicked on and shared.
Handles routine emails such as password resets, account activation and purchase orders.
The option of drafting emails that go out automatically.
Tool that turns every blog post into an email newsletter.
Simple integration with Facebook, Google Analytics, Etsy and more.
Search Engine Visibility
Page Header:

Information designed for your business
Search Engine Optimization Tools
Improve Search Engine Visibility
Promote your business on Google®, Yahoo!®, and Bing® to increase traffic and get more customers.
One-click submission to Google, Yahoo!, and Bing
Get your site indexed quicker by submitting it directly to top search engines.
Easily submit your Web page(s) to 100+ leading search engines.
Choose global or regional submission, depending on your service area.
Analyze your site
Find out how "search engine-friendly" your website is.
Learn what search terms are most often used by people looking for your type of business.
Quickly create a site map so search engines can effectively index, find, and present your pages to shoppers.
Add targeted text that attracts the right people
Use our Suggested Topics Tool to decide what kind of articles you should include on your website based on frequently searched terms for your business.
Our Keyword Generator suggests keywords and phrases that will attract the shoppers who are most likely to buy.
Get the top search terms used by people searching around the globe in 40 languages.
Quickly insert these highly effective keywords into the meta tags and content text for each page.
Track your progress
Follow search rankings for you and your competitors.
Expert recommendations help you continuously improve your ranking.
Reports include Top 10 SEO Checklist, Submissions, Search Engine Listing Status, Inbound Links, Page Rank, Keyword Ranking, Competitors, and Traffic.
Workspace File Storage
Page Header:

Information designed for your business
Workspace Online File Sharing
Discover a better way to back up, store, and share your files
Store your files in the cloud! Access documents, photos, video, and more — anytime, anywhere.
Easy file access. Powerful security. Total control
Online Storage makes it easy for anyone to back up, store and share files in the cloud. From simple drag-&-drop file transfer to synchronizing files across multiple computers, Online Storage can do it all in just a few clicks.
Store online with ease
Store any file type and share it with anyone, even if they don't have Online Storage.
Choose how you view your files with four different options: Column, List, Thumbnail and Filmstrip – plus, a built-in video viewer!
Save or download multiple files at once or bundle files together with a click for easier transfer and sharing.
View and edit anything stored in Online Storage as if it was on your local computer with our Drive Map tool.
Back up files securely
Easily back up documents, media and more to Online Storage, either manually or on an automated schedule.
Keep files safe during transfer to and from your account with powerful 256-bit encryption.
Automatically update files across multiple computers – every day, week or month – with our Sync Tool.
Team up with Workspace
Seamless integration with other Independent Development Workspace products, including Email Plans, Online Calendar and Fax Thru Email.
Access your Independent Development Email address book from Online Storage for a fast and easy way to share files with friends, family and co-workers.
Easily add attachments to your Independent Development email with a built-in button to get files from Online Storage.
Online Calendars
Page Header:

Information designed for your business
Workspace Calendars
Get more done with our all-in-one online planner.
Manage your time, schedule, and projects effortlessly with Calendar. Just add an event or task and Calendar does the rest – it even sends reminders to your cell phone, email or desktop! Calendar increases the productivity of your team or office with powerful online collaboration tools.
Stay on track and in control
Check your schedule anytime, anywhere you have an Internet connection.
Quickly add a new event or task using the easy Drag and Drop feature.
Color code your events – one color for your weekly staff meeting, another for your son's soccer games.
Create your own task list; set start and end dates and track tasks to completion.
Invite others to meetings or events you schedule (works with all standard calendars).
Get reminders via email, text message, or screen pop-up.
Allow attendees to invite others to your events (optional).
Add attachments to your tasks and events for all-in-one organization.
Keep the whole group working together
(Group and Unlimited Calendars only)
Boost productivity by having one central schedule updated in real time.
Changes made by any one member are instantly visible to the entire group.
Easily check others' availability before planning meetings or events.
Quickly reserve shared resources, such as meeting rooms and laptops.
Delegate control, choosing which members have administrative access to which Calendars.
Share documents and files with members of the group.
Task Sharing feature keeps group projects moving forward.
Works with Outlook®, other calendars, and mobile devices
Our Calendar sends and receives meeting requests to/from Microsoft Outlook® calendar.
Integrates seamlessly with iCal® and iPhone® calendars.
Synchronize with CalDAV devices and applications, including iPhone, iPad®, and Apple Mac OS X iCal
Use Calendar with other mobile devices or calendars by importing, exporting or subscribing to calendars.